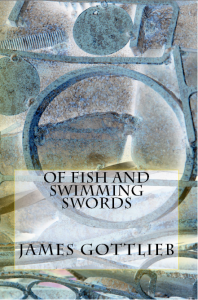 I've had the e-book edition of my novel, Of Fish and Swimming Swords, available for Kindle and Smashwords for two years. Now, I have a print edition.
You can order a print copy from CreateSpace. Use the discount code XMXXKGKU to get 25% off.
The print cover is different from the digital, but I still tried to put together a cover that was somewhat connected to the novel. The digital cover reflects the role of fours and a virtual world tree. In the case of the print edition, the artifacts resemble meshing gears, cycles enmeshed with cycles, and discarded materials half buried in the sand, similar to the layers of conspiracy in the story feeding off of each other and only half emerging from the text.
The next step is to match up the print and digital editions on Amazon so that you can get a copy of the digital edition when you buy a copy of the print through Amazon's Kindle Matchbook program.